Quick Look
The importance of PEEK in modern instrumentation
PEEK (polyetheretherketone) polymer tubing is biocompatible, chemically inert to most solvents, and can be used to replace stainless steel tubing in most liquid analytical systems. Unlike stainless steel tubing, PEEK tubing is flexible and can be easily cut to the desired length. PEEK tubing has a very smooth inner surface that causes less turbulence than metal tubing of similar size, which contributes to better resolution of sample bands.
Of all the polymer tubing materials offered, PEEK is the least permeable to gas.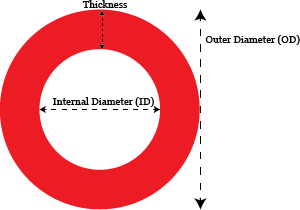 Capillary PEEK Tubing
Capillary PEEK tubing offers all the benefits of larger sized PEEK tubing, while serving as an excellent alternative to more traditional fused silica and stainless steel capillary tubing. The capillary tubing can be coupled to many of the products in the Connectors category and Valves category.
Note
Because the thru-hole of 25 µm ID PEEK tubing is very small, it is possible for some fittings to cause the ID to become occluded. Please use caution, especially with wrench-tightened fittings. For more information, please contact us.
What Size PEEK Tubing Should I Use?
Improve your chromatographic performance
An independent study conducted by a major pharmaceutical company indicated LC-MS chromatographic performance could be improved in some cases by switching the post-column transfer line from fused silica to PEEK polymer tubing. The switch dramatically reduced peak tailing and eliminated the degradation of peak symmetry as injection volume was reduced.