Let your application define your analytical system solution.
In HPLC, components of a mixture are carried through the stationary phase by the flow of a mobile phase and separation is based on differences in migration rates among the sample components. Therefore, the nature of your analytes defines not only the method but also the HPLC system.
Main characteristics of the analytes:
Molecular Weight defines the pore size of the stationary phase
Solubility defines the HPLC mode, the chemistry of the stationary phase, and the eluent.
Concentration and Matrix define the detection parameters and column dimensions.
The elutropic series defines the solvent strength for the most often used chromatography modes normal phase and reversed phase.
ANALYTICAL HPLC/ULDC/UHPLC
Sensitive, precise and adaptable to your needs.
The analytical HPLC, ULDC and UHPLC systems of the KNAUER AZURA® liquid chromatography instruments are designed to support and facilitate your work. Whether doing routine analysis or demanding separation tasks, AZURA systems are the right tool to overcome your analytical challenges. Choose between different gradient forming technologies and maximum flow rates to find the best configuration for your task.
AZURA ANALYTICAL (U)HPLC
FEATURES
HPLC: Isocratic, binary high-pressure gradient (HPG) or quaternary low-pressure gradient (LPG) pump. Exchangeable pump heads allow flow rates up to 10 ml/min at 862 bar or 1000 bar up to 2 ml/min
UHPLC: Binary high-pressure gradient pump with adaptive pulsation compensation for ultra-fast and high-resolution applications with flow rates of 0.001-5 ml/min, pressure up to 1240 bar
Autosampler with 0.1 μl sample aspiration at max. 1240 bar with zero sample loss
Choice of highly sensitive UVD, MWD, DAD, or RID detectors with intelligent temperature control
Wide range of flow cells available, including remote cells
Finger-tight high-pressure stainless steel capillary connections "K-Connect"
Extensive safety features such as leak management and sensors
Frontal access of detector lamp and pump head for easy maintenance
AZURA® ANALYTICAL HPLC SYSTEMS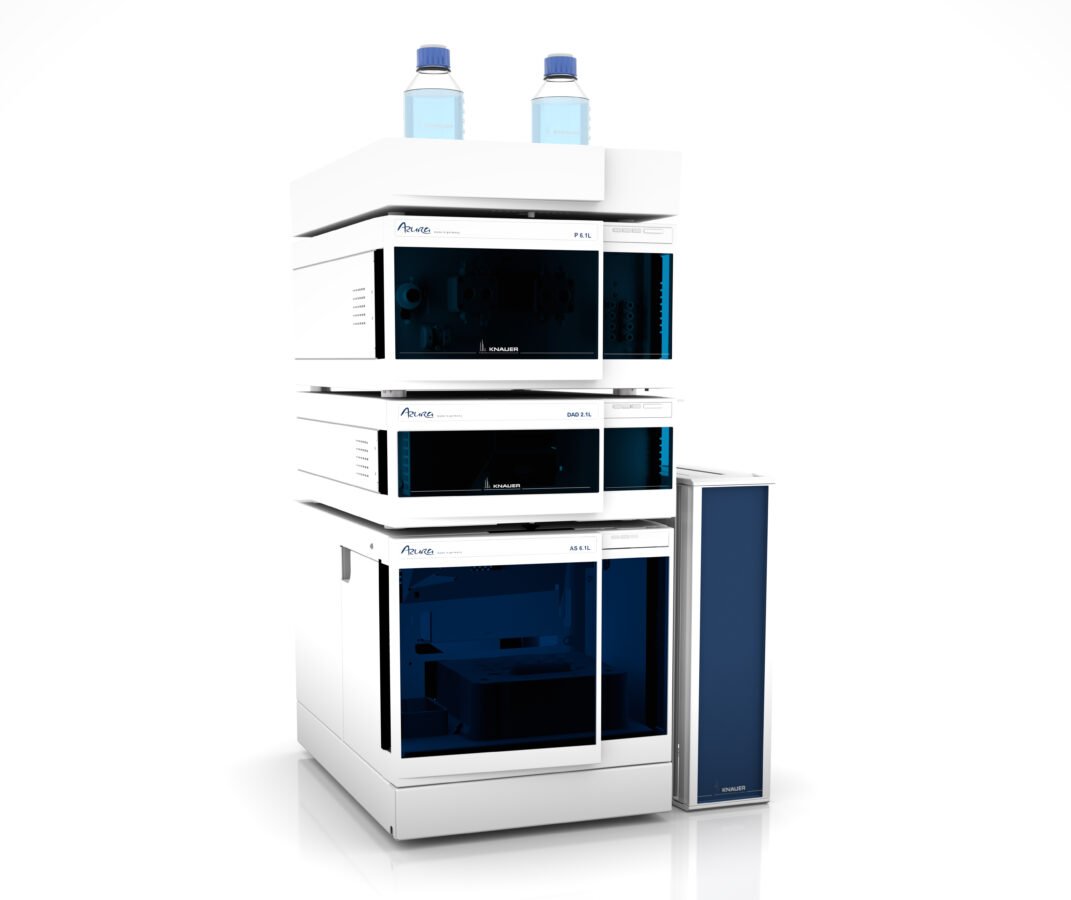 HPLC 862 bar system with
quaternary LPG pump and 3D DAD
Pump system: Gradient
Gradient: Quaternary LPG
Injection: Autosampler
Detector: Diode array
detection DAD
Software: ClarityChrom, Mobile Control
Pressure: 862 bar
Column thermostat: Yes
Cannabis Profiler: HPLC System
for cannabis potency testing
Pump system: Isocratic
Gradient: None
Injection: Manual injection
Detector: Variable single wavelength
detection UV/VIS
Software: Mobile Control, ClarityChrom
Pressure: 400 bar
Column thermostat: No
Isocratic HPLC system
designed for educational purposes
Pump system: Gradient
Gradient: Quaternary LPG
Injection: Autosampler
Detector: Variable multiwavelength
detection UV/VIS
Software: ClarityChrom
Pressure: 862 bar
Column thermostat: Yes
SOFTWARE
Mobile Control
The Mobile Control is an intuitive and cost-effective software solution for controlling and monitoring your AZURA devices and systems. The clear system overview provides instant information on key parameters and system status. Adjust and operate single devices or even whole systems with a few fingertips. The well-structured block programming assists you to clearly and quickly automate device control. A smart user management makes the Mobile Control safe. Device parameters can only be changed by authorized operators.
OpenLAB® CDS EZChrom Edition
Basic Workstation license, includes System Suitability, Fraction Collector Control and Software Maintenance Agreement
Chromeleon™ 7.2
Thermo Scientific™ Dionex™ Chromeleon™ is one of the most wide-spread chromatography data systems. Its intuitive handling benefits laboratory workflow and the highly developed algorithms simplify data processing. It offers a broad range of third-party drivers and can be easily used with existing HPLC systems. KNAUER offers drivers for a lot of its devices.
HPLC BASICS –
PRINCIPLES AND BASICS
Liquid chromatography is a well-established technique for the separation of substances. High-performance liquid chromatography (HPLC) is a suitable method for the analysis of a wide range of application areas.
Here, we describe the principle of HPLC and introduce to the most important components in an HPLC system and the factors that determine the success of a measurement.
APPLICATION AREAS
Food Analysis
Analytical methods are essential to ensure product quality, execute regulations and to comply with food standards, specifications and labelling requirements in the food industry.
CBD / THC analysis
Analytical HPLC provides a quantitative basis for classifying cannabis according to chemotype. It is superior to many alternative techniques as performance is not temperature-dependent, which guarantees that even cannabinoids at the lowest concentration are unlikely to undergo decarboxylation.
Analysis of carbonyl emissions
In the monitoring of industrial air, the determination of carbonyl (aldehyde and ketone) emissions is crucial to prevent respiratory, pulmonological, autoimmune diseases, and cancer. With HPLC, a robust, precise, and reproducible analysis can be performed.
Pharmaceutical analysis
In pharmaceutical industry, HPLC plays an important and critical role in the analysis of compounds. It is used in quality control to test compounds for purity and to perform qualitative and quantitative analysis. Also, target molecules are identified and analyzed by chromatography.
Do you need more details or a quote?
We Can Help
Please send us your request.
We are happy to answer your questions about our products and services.
+30 2310 580765
sales@targetanalysis.gr