Gyrozen – Floor-Standing Centrifuge (1736R)
High-speed refrigerated floor-standing centrifuge that fits into any laboratory or station for general and special purposes, clinical facilities and more.
It is ideal for large volumes, designed for research & daily routines, and can be used in biology, chemistry, geology and many other fields. It reaches speeds of up to 32,310xg with a maximum capacity of 30 tubes, 6x500mL capacity, and a wide range of fixed-angle and swing-out rotors!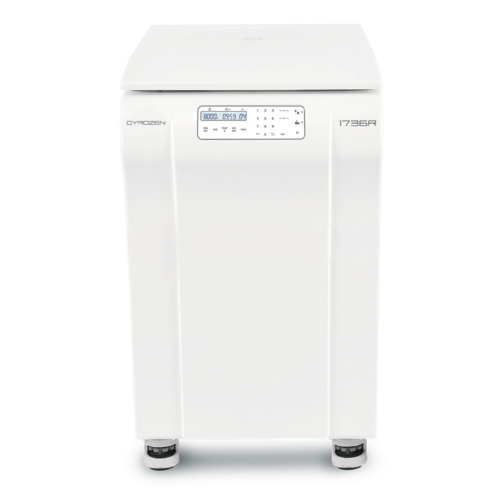 Key Features
The 1736R, a multi-purpose, large capacity, floor-standing centrifuge designed for large-volume daily-working laboratories
For up to 17,000 rpm (32,310 x g) with 6 x 50 ml tubes and 8,000 rpm(11,305 x g) with 6 x 500 ml tubes
The short working height of 84 cm (33 inches) ensures easy loading and unloading.
With motorized lid mechanics, only a gentle touch is sufficient to close and open the lid.
Lid drop protection design allows easiness and safety when loading or unloading samples.
A large assortment of rotors, buckets and adaptors support diverse applications doable with one instrument.
Fast cooling function to 4℃ in 5 minutes for fast startup of cooled samples
The compressor-off function when lid is open minimizes unnecessary cooling and frosting.
Intuitive control interface with numeric input buttons allows easy setting and editing of running conditions.
Selectable time mode of "at set SPEED" for counting running time only when reached the set speed
A separate "PULSE" key for quick spin
Parameters can be changed during operation.
Key lock function helps the set parameters secured during operation.
Specifications
| | | | |
| --- | --- | --- | --- |
| Max. RPM / Fixed angle | 17,000 rpm | Max. RPM / Swing-out | 4,000 rpm |
| Max. RCF / Fixed angle | 32,310 x g | Max. RCF / Swing-out | 3,134 x g |
| Max. capacity / Fixed angle | 6 x 500 ml, 30 x 1.5/2.0 ml | Max. capacity / Swing-out | 4 x 250 ml, 48 x 15 ml, 16 MTPs |
| Temp range (℃) | – 20℃ to 40℃ | FAST cool button | Yes |
| Time control | Pulse, timed < 10 hr or continuous | Time counting range | Selectable, at set speed or from starting |
| RPM/RCF conversion | Yes | Noise level (dependent on rotor) | ≤56 dB |
| ACC/DEC ramps | 10-Sep | Program memory | 100 |
| Parameters on display window | RPM (RCF), Oper Status, Lid Open/Close, Hr:Min, Temp, ACC, DEC | Display | Blue LCD |
| Automatic rotor Identification | Yes | Imbalance cut-off | Yes |
| Safety lid lock | Yes | Lid drop protection | Yes |
| Motorized lid open & close | Yes | Power supply (V/Hz) | 230 V, 50 Hz (AC 220-230 V, 50/60 Hz; 110 V optional) |
| Power Requirement (kVA) | 2.5 | Dimension (W x D x H, mm) | 473 x 610 x 830 |
| Weight without rotor (kg) | 110 | CE MARK | Yes |
| Cat. No. | GZ-1736R |   |   |