Jeio Tech – Ultrasonic Bath (UCP series)
Product for 2L: BDH532011K
Product for 10L: BDH532012K
Product for 20L: BDH532013K
Aggressive cleaning ability in a variety of output modes!
UCP Series of ultrasonic baths use ultrasound to remove problematic contamination from all types of hard surfaces such as metals, plastics and ceramics. The power of UCP equipment can be used to clean items of all shapes, sizes and technical complexity, penetrating holes and cavities that are impossible to reach using ordinary cleaning methods
Operating at a frequency of 40kHz, the Jeio Tech UCP series Ultrasonic Bath provides maximum cleaning power and strong reliability.
Perfect for cleaning components of different sizes, its 304-grade stainless steel tank is easy-to-clean and sealed with a durable and flame-resistant cover. This bath also features a simple digital LED display and temperature controller.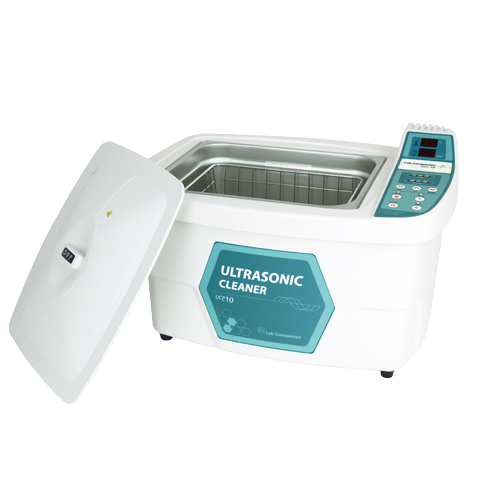 Key Features
Durable / flame resistance ABS material used and cover with grade 304 stainless steel tank
Over-temperature protection with alarm
Digital LED display using splash-proof keypads with timer (1 to 99min, max. 4 hour operating) and temperature monitor
High-frequency 40kHz sound waves provide greater cleaning power and increased reliability
Multiple output mode (Normal / Pulse / Sweep) with power selection (Low / Middle / High)
Before cleaning, dissolved gas removed by degas function
Drain valve, basket and cover are included
Specifications
Model
UCP – 02
UCP – 10
UCP – 20
Bath volume (L )
2
10
20
Temperature range (℃ )
–
Amb. to 70
Ultrasonic power (W)
100
300
500
Dimension
Bath interior (W×L, D) (mm)
142×132, 104
295×240, 160
500×290, 160
Exterior (W×L×H) (mm)
290×210×200
490×368×297
721×451×297
Net weight (kg)
2
11
17
Electrical requirements (230V, 50 / 60Hz)
0.6A
1.3A
2.2A
Product code
BDH532011K
BDH532012K
BDH532013K
Electrical requirements (120V, 60Hz)
1A
1.7A
4.2A
Product code
BDH532011U
BDH532012U
BDH532013U