Single PFAS Compounds
Per- and polyfluoroalkyl substances (PFAS) belong to a continuously expanding family of over 9000 man-made chemical pollutants. The amphiphilic ability of PFAS has led to the manufacturing of PFAS in oils and water-resistant industrial and consumer products such as firefighting foams, cleaners, cosmetics, paints, adhesives and insecticides. However, environmental chemists and biologists have uncovered that PFAS have harmful toxicological effects and pose a significant risk to the public. The high thermal and chemical stability of PFAS make them persistent in the environment and nearly non-biodegradable, necessitating chemical reference standards to test the concentration of PFAS in drinking water, burn sites and Teflon products.
Target Analysis, through its global manufacturer's network collaboration, may offer you these products at affordable prices.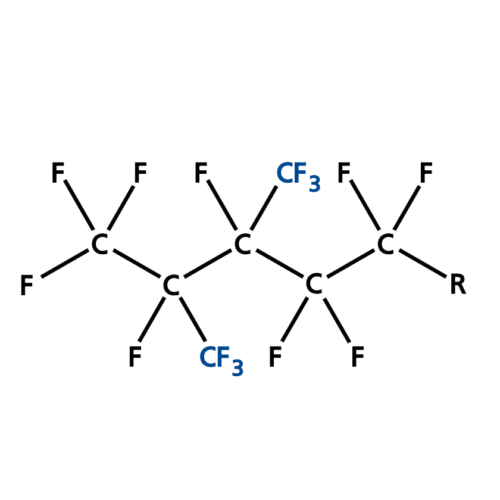 | | |
| --- | --- |
| Perfluoroalkylsulfonates | CAS No. |
| Potassium perfluoro-l-octanesulfonate | 2795-39 3 |
| Potassium perfluoro-l-butanesulfonate (PPBS) | 29420-49 3 |
| Sodium perfluoro-l-pentanesulfonate | 630402-22 1 |
| Potassium perfluoro-l-hexanesulfonate | 3871-99 6 |
| | |
| --- | --- |
| Perfluoroalkylcarboxylic acids | CAS No. |
| Trifluoroacetic acid (TFA) | 76-05-1 |
| Perfluoro-n-octanoic acid | 335-67-1 |
| Perfluoro-n-butanoic acid (PFBA) | 375-22-4 |
| Perfluoro-n-decanoic acid (PFDA) | 335-76-2 |
| Perfluoro-n-dodecanoic acid (PFDoA) | 307-55-1 |
| Perfluoro-n-heptanoic acid (PFHpA) | 375-85-9 |
| Perfluoro-n-hexanoic acid (PFHxA) | 307-24-4 |
| Perfluoro-n-nonanoic acid (PFNA) | 375-95-1 |
| Perfluorooctadecanoic acid (PFODA) | 16517-11-6 |
| Perfluoro-n-pentanoic acid (PFPeA) | 2706-90-3 |
| Perfluoro-n-undecanoic acid (PFUnA) | 2058-94-8 |
| 2H-Perfluoro-2-decenoic acid (FOUEA) | 70887-84-2 |
| 2,2,3,3,3-Pentafluoropropionic acid (PFPrA) | 422-64-0 |
| 2H,2H,3H,3H-Perfluorooctanoic acid (5:3 FTCA) | 914637-49-3 |
| 2H,2H,3H,3H-Pefluorodecanoic acid (7:3 FTCA) | 812-70-4 |
| 2H,2H,3H,3H-Perfluoroundecanoic acid (8:3 FTCA) | 34598-33-9 |
| 2H-Perfluoro-2-octenoic acid (FHUEA) | 70887-88-6 |
| Perfluoro-n-tridecanoic acid (PFTriA) | 72629-94-8 |
| Perfluoro-n-tetradecanoic acid (PFTreA) | 376-06-7 |
| Nonafluoro-3,6-dioxaheptanoic acid (NFDHA) | 151772-58-6 |
| Perfluoro-3-methoxypropanoic acid (PFMPA) | 377-73-1 |
| Perfluoro(4-methoxybutanoic) acid (PFMBA) | 863090-89-5 |
| 2H,2H,3H,3H-Peffluorononanoic acid (6:3 FTCA) | 27854-30-4 |
| | |
| --- | --- |
| Perfluorooctylsulfonamidoacetic acids | CAS No. |
| N-ethylperfluoro-l -octanesulfonamidoacetic acid (NEtFOSAA) | 2991-50-6 |
| N-methyl N-methylperfluoro-l -octanesulfonamidoacetic acid (NMeFOSAA) | 2355-31-9 |
| N-methyl perfluorooctanesulfonamidoacetic acid | – |
| N-methylperfluoro-l-octanesulfonamidoacetic acid (NMeFOSAA) | 2355-31-9 |
| | |
| --- | --- |
| Perfluorooctane sulfonamides | CAS No. |
| Perfluorooctane sulfonamide (PFOSA) | 754-91 6 |
| Bis(trifluoromethane)sulfonimide lithium salt (HQ-115) | 90076-65 6 |
| Sulfiuramid (NEtFOSA) | 4151-50 2 |
| N-Ethyl-N-(2-hydroxyethyl)peiluorooctylsulphonamide (NEtFOSE) | 1691-99 2 |
| | |
| --- | --- |
| Sulfonic acids | CAS No. |
| Perfluoro-n-octane sulfonic acid (PFOS) | 1763-23 1 |
| Perfluoropentanesulfonic acid (PFPeS) | 2706-91 4 |
| Perfluoro(2-ethoxyethane)sulphonic acid (PFEESA) | 113507-82-7 |
| 1H,1H,2H,2H-Perfluorodecanesulfonic acid (8:2 FTS) | 39108-34 4 |
| 1H,1H,2H,2H-Perfluorohexanesulfonic acid (4:2 FTS) | 757124-72 4 |
| 1H,1H,2H,2H-Perfluorooctane sulfonic acid (6:2 FTS) | 27619-972 |
| Perfluorononanesulfonic acid (PFNS) | 68259-12 1 |
| Perfluorobutane-l-sulfonic acid (PFBS) | 375-73 5 |
| | |
| --- | --- |
| Telomer sulfonates | CAS No. |
| Sodium 1H,1H,2H,2H-perfluoro-1-hexanesulfonate | 27619-93 8 |
| Sodium 1H,1H,2H,2H-perfluoro-1-octanesulfonate | 27619-94 9 |
| Sodium 1H,1H,2H,2H-perfluoro-1-decanesulfonate | 27619-96 1 |
| Fluorinated telomer alcohols | CAS No. |
| 2,2-Difluoropropan-1-ol 3H,3H,3H (2:1 FTOH) | 33420-52 9 |
| 3,3,3-Trifluoropropan-1-01 (1 :2 FTOH) | 2240-88 2 |
| 2,2,3,3,3-Pentafluoropropan-1-ol | 422-05 9 |
| 1H,1H,2H,2H,3H,3H-Perfluorobutan-1-ol (1:3 FTOH) | 461-18 7 |
| 1H,1H,2H,2H-Pefluorobutan-1-ol (2:2 FTOH) | 54949-74-5 |
| 1H,1H,5H-Perfluoropentan-1-ol (5H 4:1 FTOH) | 355-80 6 |
| 2-(Perfluorobutyl)ethanol (4:2) | 2043-47 2 |
| 1H,1H,5H-Perfluoropentan-1-ol (5H 4:1 FTOH) | 355-80 6 |
| 1H,1H,2H,2H-Perfluorooctan-1-01 (6:2) | 647-42 7 |
| 1H,1H-PerfIuorooctan-1-ol (7:1 FTOH) | 307-30-2 |
| 1H,1H-Perfluorononan-1-ol (8:1 FTOH) | 423-56-3 |
| 1H,1H,2H,2H-Perfluoro-1 -decanol (8:2) | 678-39-7 |
| 1H,1H,2H,2H-Perfluoro-9-methyldecan-1-ol (9Me 8:2 FTOH) | 31200-98-3 |
| 1H,1H,2H,2H-Perfluorododecan-1-ol (10:2) | 865-86-1 |
| 1H,1H,2H,2H-Perfluorotetradecan-1-ol (122 FTOH) | 39239-77-5 |
| 1H,1H-Perfluorotetradecan-l-ol (13:1 FTOH) | 15622-57-8 |