Gyrozen – Low-Speed Centrifuge (624R)
Compact, low-speed, refrigerated benchtop centrifuge that fits on lab benches and other smaller stations for general and specialized purposes, clinical settings, and more.
It is ideal for cell cultures and numerous further biological fluids and samples for instrumental analysis. It reaches speeds of up to 6000 rpm with a maximum accommodation of 32 tubes, 400mL capacity, and 8 different rotor options!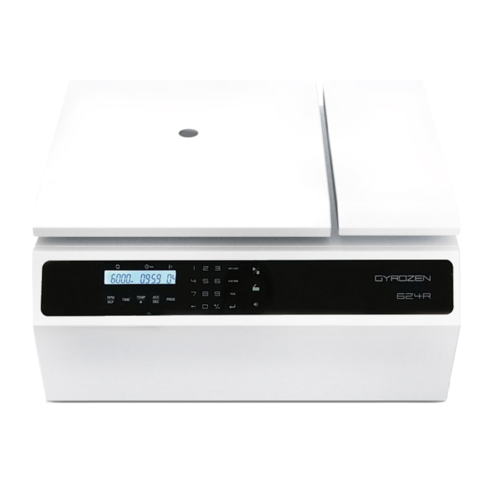 Key Features
For up to 6,000 rpm (3,960 xg) with 6 x 50 ml conical tubes and 4,800 rpm (3,888 xg) with 4 x 100 ml tubes
Commonly used in the fractionation of blood samples and simple precipitation of biological samples
Fast cooling function to 4°C in 5 minutes for fast startup of cooled samples
The compressor-off function when lid is open minimizes unnecessary cooling and frosting
Intuitive control interface with numeric input buttons allows easy setting and editing of running conditions.
The control panel design can be selected according to user's preference. (The black or white control panel is optionally available.)
Selectable time mode of "at set SPEED" for counting running time only when reached the set speed
A separate "PULSE" key for quick spin
Parameters can be changed during operation.
Key lock function helps the set parameters secured during operation.
With motorized lid mechanics, only a gentle touch is sufficient to close and open the lid.
Lid drop protection design allows easiness and safety when loading or unloading samples.
A large assortment of rotors, buckets and adaptors for microtubes and all sizes of tubes up to 100 ml.
Specifications
| | | | |
| --- | --- | --- | --- |
| Max. RPM / Fixed angle | 6,000 rpm | Max. RPM / Swing-out | 4,800 rpm |
| Max. RCF / Fixed angle | 3,960 x g | Max. RCF / Swing-out | 3,888 x g |
| Max. capacity / Fixed angle | 6 x 50 ml, 24 x 15 ml | Max. capacity / Swing-out | 4 x 100 ml, 32 vacutainer tube, 4 MTPs, 2 DWPs |
| Temp. range (°C) | -10 to +40 | FAST cool button | Yes |
| Time control | Pulse, timed < 10 hr or continuous | Time counting modes | Selectable, at set speed or from starting |
| RPM/RCF conversion | Yes | Noise level (dB) | ~ 60 |
| ACC/DEC | 9/10 steps | Program memory | 100 |
| Parameters on display window | RPM (RCF), Oper Status, Lid Open/Close, Hr:Min, Temp, ACC, DEC | Display | White LCD |
| Automatic rotor identification | Yes | Imbalance cut-off | Yes |
| Safety lid lock | Yes | Lid drop protection | Yes |
| Motorized lid open & close | Yes | Power supply | 230 V, 50 Hz (AC 220-230 V, 50/60 Hz; 110 V optional |
| Power requirement (VA) | 900 | Dimension (W x D x H, mm) | 584 x 535 x 317 |
| Weight without rotor (kg) | 65 | CE mark | Yes |
| Cat. No. | GZ-0624R-W (White display), GZ-0624R-B (Black display) |   |   |