ARA – Freezer
Think different, think Breakthrough
ARA 's upright type Deep Freezers are used for short or long-term storage of biological, pharmaceutical, chemical, and other laboratory samples. They can operate at temperatures as low as -96 with low power consumption and minimal noise levels. The components have built-in sensors with alarms to warn users of temperature fluctuations or power interruptions. It can alert up to 5 users simultaneously via text message.
It has an integrated temperature recorder to help the lab meet FDA and other agency regulations. They have alternate internal shelving & sliding drawers to accommodate product formats.
Ergonomic Benefits. Doors that open automatically with the push of a button or manually with one hand; convenient shelf height and depth.
Capacity ranges from 85 liters to 876 liters.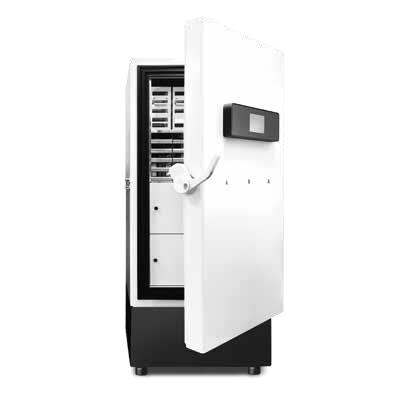 M Series
It would be a bold new statement for your laboratory.
Deep Freezer Like No Other
The M Series by ARA is a collection of Deep Freezers for storing samples down to minus 95°C varying in different sizes and features. Aside from its industry-leading design and build quality, features like DualBrain™ and Independent Dual Compressors, make each unit virtually impossible to fail.
Others

Typical dual compressor system where the compressors are dependent to each other making the system unable to maintain its temperature when one compressor fail.

M Series

Two independent compressors work as separate cooling systems that one can continue to fully function independently even when the other compressor fail.
Features
Fast pull-down and recovery to optimal storage temperature (500L Dual / -95℃, 700L Dual / -90℃)

Unique pin-less Block Condenser and Independent Compressor (single or dual selectable) structures

Failure free Dual Brain PCB and dual Independent Compressor systems

Effortless Auto-Door with safe lock& unlock function (optional manual door is available)

Controllable ECO mode of dual compressor model for energy saving operation

Informative 7" display and touch screen control

Data tracking and storage to chart recorder or through USB transfer

Alarm warning of text message transfer to max. 5 users

No need of dust cleaning by very simple compressor and condenser structure

LCO2 or LN2 backup system is available
11 Different Models
M Series come in multiple sizes, ranging from 85 liters to 876 liters, and other customizable options are available as well. There are 11 different combinations to choose from, so the choice is yours.
Selection Guide
1) Freezer Space & Type

(Upright Type) 85L, 317L, 404L, 514L, 732L, 876L

2) Door Type

Automatic Door, Manual D0or

3) Compressor type

[M80 – M(D)500]
Dual(Full): -95℃ / Single & Dual(Eco): -86℃
[M(D)700-M(D)870]
Dual(Full): -90℃ / Single & Dual(Eco): -80℃

4) Freezer Space & Type

(Open Rack) AMA-OR S/M/L/X for upright type
(Tray Drawer) AMA-TD S/M/L/X for upright type
(Box Drawer) AMA-BD S/M/L/X for upright type
Specifications
Capacity: 85L, 317L, 404L, 514L, 732L, 876L

Lowest Temperature:

[M80 – M(D)500] Dual(Full): -95℃  /  Single & Dual(Eco): -86℃
[M(D)700-M(D)870]Dual(Full): -90℃  /  Single & Dual(Eco): -80℃

Compressor: Hermetic type, Single or independent dual compressor

Condenser: Block condenser, pin-less, filter free mechanism

Refrigerant: Natural (CFC free refrigerant system)

Controller & Display: Failure free dual controller and 7″ TFT LCD touchscreen.

Door: Door opening and closing by pressing a touch button on control screen (Manual Door is Optional)

Material: Internal stainless steel / External powder coated steel plate

Power supply: single phase, AC 230V, 50/60Hz (optional AC 120V. 60Hz)