Ultra Clear™ TP ED TWF Ultrapure Water Systems
The Ultra Clear™ TP ED TWF Ultrapure Water System is available with all options, connected directly to the drinking water network (Tap Water Feed).
The Ultra Clear TP ED TWF systems are equipped with an electronic dispenser allowing precise and easy volume-controlled dispensing of your ultra-pure water up to 2 l/min. These systems supply the highest producible water quality for all laboratory needs, critical test- and research environments. Designed for 24/7 usage and are delivered with the first set of all cartridges and filters. Changing cartridges is fast and simple due to easy access. Whether as bench top or wall mounted, the systems are designed for space-saving installations.
Each system is equipped with economical state-of-the-art purification technology. Water quality with a resistivity of 18.2 MΩ-cm and a TOC level between 1 – 3 ppb far exceeds all reagent water quality standards. The built-in reverse osmosis system has a recovery rate of > 30 % to conserve water.
The following ion exchange module (DI) provides water with < 2 µS/cm from the tank.
All systems which include Ultrafiltration (UF) produce the highest possible water quality free of RNase, DNase and DNA and can produce ultra-pure water with endotoxin levels of < 0.001 EU/ml. The high-resolution display indicates the water conductivity in µS/cm or resistivity in MΩ-cm with the corresponding water temperature.
A single UV lamp is used for the oxidization of organic compounds and TOC measurement. The energy-saving operation mode enables the user to program the running cycles according to the real needs resulting in much lower annual running costs. A built-in automatic self-cleaning mechanism extends the life of the ultrafiltration module.
Target Applications: HPLC, IC, GC and GC/MS, TOC analysis, ICP and ICP/MS, DNA sequencing, RNase- and DNase-free, DNA free, PCR, IVF, 2D electrophoresis, Critical cell and tissue culture, and Pyrogen sensitive applications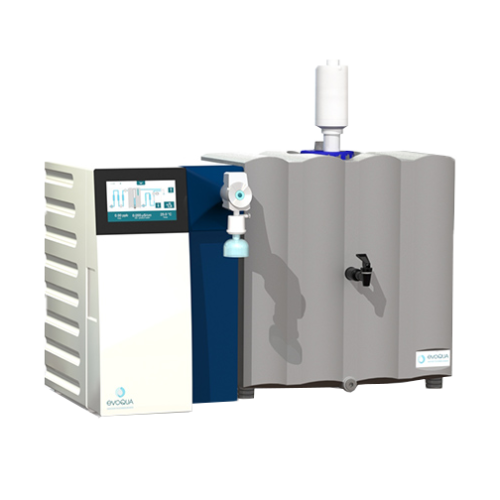 Key Features
New electronic dispenser allows precise and volume-controlled dispensing
Up to 2L/Min of ultra-pure water – even with endotoxin-filter
Improved pump performance
Modbus connectivity to communicate with Building Management System (BMS)
Printer port
SD card port and USB connection for convenient data transfer
7" multi-colour intuitive touch panel allows easy operation
New and improved designed user interface
Tab Water Feed (TWF)
30l or 60l storage tank for Type II water
Highly efficient and economic due to long-lasting components
Top quality ultra-pure water exceeds all current quality standards
All systems come with TOC monitoring (TM)
User-guided disinfection to maximize the life span of the system
Easy Installation
Specifications
 
TA – W3T276075
TA – W3T276076
TA – W3T276077
TA – W3T276078
Feed Water
Pressure (bar)
0.1 – 5
Conductivity (µS/cm)
< 1400
CO2  (mg/l)
< 15
Silica (mg/l)
< 15
TOC (ppb)
—
Feed water quantity l/h
25 – 30
Temperature (°C)
5 – 35
SDI
< 3
Free Chlorine (mg/l)
< 0.1
Iron (mg/l)
< 0.1
Manganese (mg/l)
< 0.05
pH value
3 – 9
Pure Water
Flow rate (l/h)
10
Conductivity (µS/cm)
< 2
Ultrapure Water
Flow rate (l/min)
up to 2
Conductivity (µS/cm)
0.055
Resistivity (MÙ-cm)
18.2
TOC (ppb)
< 3
DNase, RNase, DNA
—
free
—
free
Bacteria (CFU/ml)
< 0.1
Endotoxins (EU/ml)
—
< 0.001
—
< 0.001
Particles > 0,2 µm/ml
< 1
Measurements (W/H/D)
System (mm)
340 × 535 × 550
30 l tank (mm)
300 × 770 × 310
—
60 l tank (mm)
—
560 × 770 × 310
80 l tank (mm)
—
—
Total weight (kg)
30.5
31.5
Electric Connection
Voltage/Hertz (V/Hz)
100 – 240/50 – 60
Power consumption (W)
225